The right CNC control for every need and every budget: BWO Elektronik 's modular control concepts offer just that. At BWO, there is nothing off-the-shelf: engineering and software of the control concept are adapted to the requirements of the machine and user. Our customized front panel of touchscreen and switches ensures optimal machine operation.
THE REQUIREMENT:
A combination of a 15″ capacitive touch screen and a keyboard is required for CNC control. The key surfaces should be as raised as possible and very tactile for the user. Additional cutouts are required for the subsequent integration of further switches and an emergency stop button. A matching support part should provide the necessary stability and be able to accommodate the touch keyboard combination flush. The entire touch panel must meet a degree of protection of IP65.
15 inch capacitive touchscreen
Touch controller included
Design foil with closed, anti-reflective display window and embossed key surfaces
Integrated LED as signal indicator
Touchscreen bonded with design foil
Aluminum support part natural anodized
Degree of protection IP65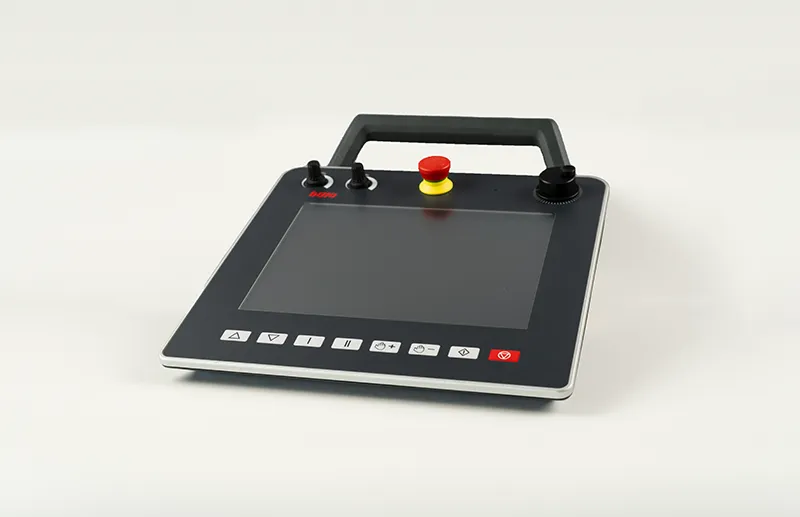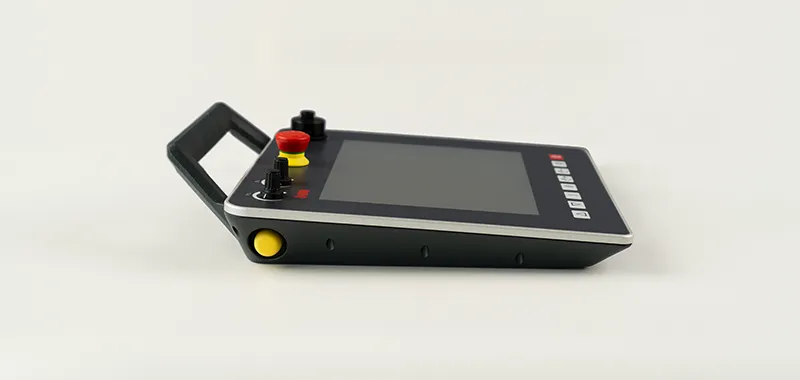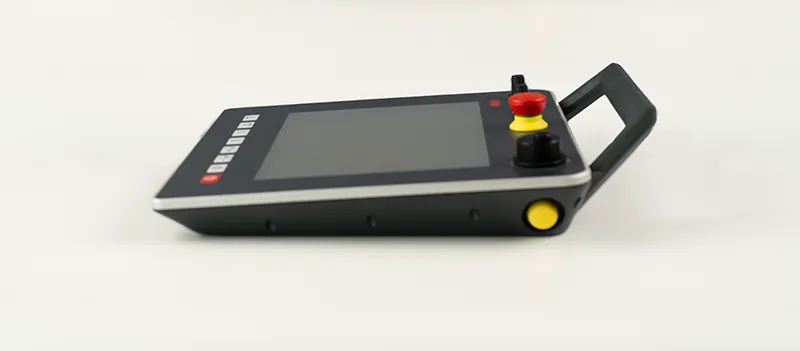 OUR SOLUTION:
With our solution, we were able to fulfill all requirements in one control panel. For the application, we selected a standard 15″ touchscreen with matching controller. The design foil was printed individually according to the customer's wishes and provided with various recesses for the subsequent installation of switches and buttons. We ensure optimum haptics and appearance with glossy, highly embossed key surfaces in the row of keys below the display window.
The large display window in the design foil was anti-reflective and fully bonded to the touchscreen behind it under clean room conditions(OCA bonding). This allows us to create a safe operation and an optimal view of the user interface content.
A matching aluminum support part provides the necessary stability for the control panel. We created the design data for this in-house and triggered the order with our supplier. Individual cutouts and milling allow us to glue the operating element flush into the carrier part. For optimal installation at the customer's site, the panel is equipped with appropriate press-fit threaded bolts. The natural anodized surface provides a high-quality design and rounds off the input system.
In order to comply with the IP65 protection class, we paid attention to sufficient bonding of the individual components. In addition, we sealed the cable outlet from the integrated touchscreen. The seal attached to the back in the carrier part creates an optimal finish. It reliably protects the entire system when installed.
After the assembly of all components follows, as always, a 100% final test. The finished product is subjected to a visual inspection and a functional test. The result: a customized, high-quality touch panel protected to IP65.
This control panel is a consistent succession of other variants in different sizes and with integrated membrane keyboards, which have been reliably in use at BWO for many years.