No chance for dirt or bacteria
Our medical keyboards have a sealed surface and are splash-proof according to IP 65. They can be cleaned quite easily and quickly. In addition, the keyboards are resistant to various forms of alcohol, diluted acids and alkalis, disinfectants, hydrocarbons, ketones, household cleaners, oils and greases, and esters.
The medical keyboard with antimicrobial surface
A medical keyboard that stops viruses and bacteria. The special structure of the antimicrobial film surface prevents the spread of viruses and bacteria. Should microorganisms come into contact with the film surface, the cell wall is penetrated by the protective agent preventing cell reproduction. In addition, the keyboard is splash-proof according to IP65 and can therefore be cleaned easily and quickly.
By applying tactile, key domes using our innovative GT technology, blind data entry is possible. With an integrated capacitive mouse pad, operation – with and without protective gloves – becomes even easier.
Your advantages
Plug & Play – without installation
Protection class IP65 / Splashproof
Antimicrobial surface
Suitable for all medical PCs as well as for common 19″ cabinets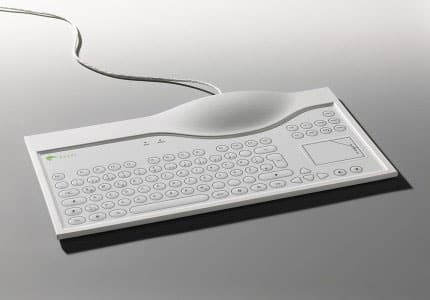 Our medical keyboards are made individually for you. Customizations such as a company logo or the selection of alternative connection options can be easily integrated. Just ask our sales team for an individual offer!
We will gladly prepare an individual offer for the integration
of your personal company logo or alternative connection options.