The printing process
Printed electronics is a process in which the application is built additively. The corresponding layout can be printed on different substrates. The electronics are printed using the screen printing process. Fully automated production lines in sheet formats allow easy and cost-efficient handling. In addition, the company's in-house electronics manufacturing facility enables the assembly of further electronic components.
Printable materials:
Plastics, synthetic fabrics, metal, glass, printed circuit boards
More information about Printed Electronics in the Induux Wiki.
Printed Electronics from the idea to the product:
Technical consulting and product design
Production from prototype to large series
Screen printing in sheet formats
Paste and material selection
Component assembly in our own electronics production
Plug & Play solutions including electronics unit and housing
Printed Electronics Solutions
Functional films: Capacitive sensor films
Printed capacitive sensor foils save space, are lightweight and can be individually illuminated. It is no longer possible to imagine the vehicle cockpit or household appliances without these sophisticated control units. Just like a touchscreen, the sensor foils can be operated intuitively via light touches.
The biggest advantage lies in the individuality. The functional films are printed with the capacitive, translucent control panels entirely according to customer requirements: flexible key shapes and sizes can be applied to different film materials and thicknesses.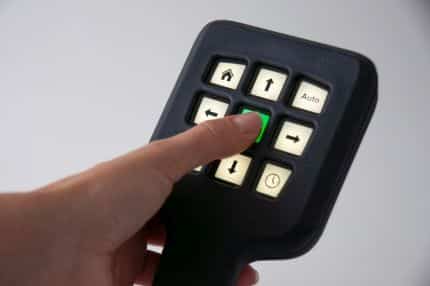 Pressure sensors with FSR paste
Pressure sensors change their electronic resistance when force is applied. A special Dickschickt FSR (force sensing resistor) paste is printed onto a PET film and integrated into a sandwich film structure. As a result, the sensor track is located inside the film structure and is optimally protected from dust and water.
With our Sensoforce pressure sensors, for example, the speed of a fan can be controlled by applying more or less pressure.
Potentiometer
Foil potentiometers are used for displacement and angle measurement. They convince with precise measurement results, a long service life and a flat design.
Individual sensors
You have not found the right sensor for your application? No problem! We manufacture other sensors with individual functions for you on a customer-specific basis. For example:
PH Sensors
Temperature sensors
Humidity sensors
In-Mold Electronics
The in-mold process combines functional films with injection molding technology. The film is inserted into the injection mold and directly back-molded. This process seamlessly unites the functional film with the plastic housing. Special substrates and pastes are used to ensure that the printed functions withstand this deformation.
In-mold electronics combines function with design and is used, for example, in the automotive industry. Vehicle cockpit functions will be embedded directly in the dashboard and operated like a touchscreen. Knobs and switches are then no longer necessary.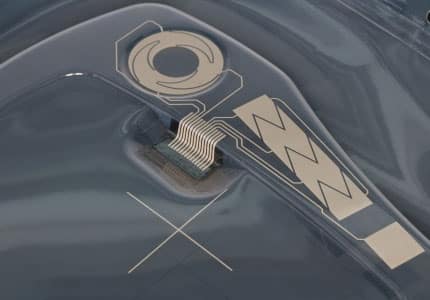 Two technology worlds combined into one: a printed function is combined with conventional electronic components. By contacting and fixing with conductive adhesives, components such as ICs or LEDs can also be integrated on flexible films.
A good example of a long-standing product of this technology is the membrane keypad with integrated LEDs: The circuit is printed, the LED is inserted by adhesive bonding.
Flexible Hybrid Electronics is used where thin, lightweight and deformable electronic units are required. A technology that effortlessly meets the ever-increasing demands: the lightest possible weight, difficult substrates, hardly any space and unusual sizes.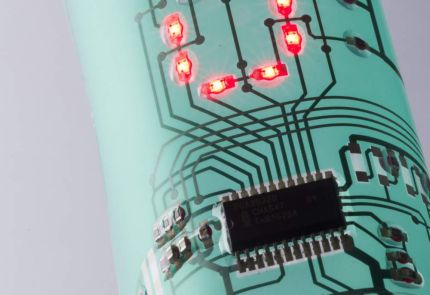 New development or redesign?
We are your partner from prototype to series production.