You have the requirements. We have the know-how.
Electronics manufacturing
Product Design
Each finished product represents the culmination of many complex processes involving a variety of people, technologies and actions. As a partner from prototype to series production, we help transform unfinished ideas into marketable products. Our expert designers and developers can take the pressure and complex coordination out of product development.
Many of our customers know what they want, but they may not have the skills or staff in-house to design, prototype and test their vision. For us, product design and prototyping is part of a normal workday. With years of experience, we transform your idea into a finished product.
If the product is right, we produce in any desired scale, from small series to large series. Our goal is: Everything from a single source!
Electronics manufacturing
With our own SMD assembly, reflow and wave soldering technology as well as visual and electronic testing techniques, we offer complete solutions from a single source. Compliance with all ROHS regulations in manufacturing and all ESD requirements also applies to safety-relevant areas of application such as aviation and traffic engineering or medical technology.
In our electronics production we use, among other things:
Automatic placement of metal domes
Solder paste printing
Placement of LED on film (FR-LEDs)
Assembly of printed circuit boards
In-house test programs for 100% final inspections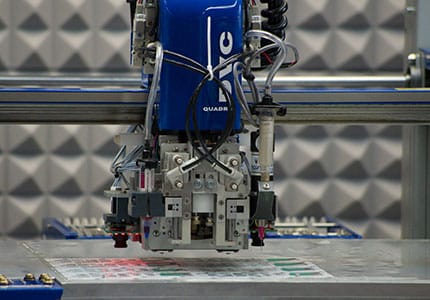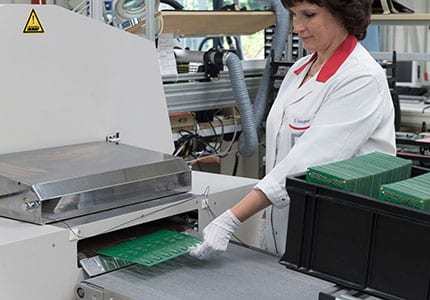 Optical Bonding
Optical bonding = full-surface bonding of touchscreens, displays and glass. The common air gap between the components is filled with the adhesive for a more reliable touch function and more brilliant display. The process takes place under clean room conditions to prevent inclusions such as dust and dirt. Hoffmann + Krippner relies on two proven adhesive processes: LOCA (Luquid Optical Clear Adhesive) and OCA (Optical Clear Adhesive).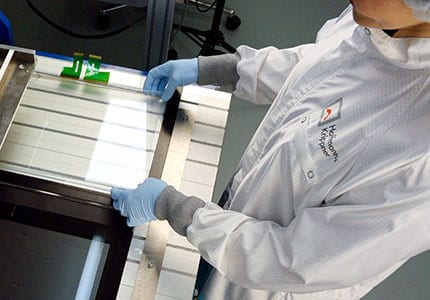 3D printing (additive manufacturing)
We rely on the HP Multi Jet Fusion process for 3D printing. The innovative Multi Jet Fusion process combines the strengths of the two well-known rapid prototyping processes: Polyjet and Selective Laser Sintering (SLS).
We use additive manufacturing not only for prototypes, but increasingly also for medium and smaller series. Especially for components with a high degree of customization or particularly complicated geometries, 3D printing definitely comes into its own as an optimal alternative or even supplement to the tried-and-tested processes.
Take advantage of the benefits of 3D printing:
Quick and easy implementation
Only STEP data required, no tools
Part optimization through function integration
High customization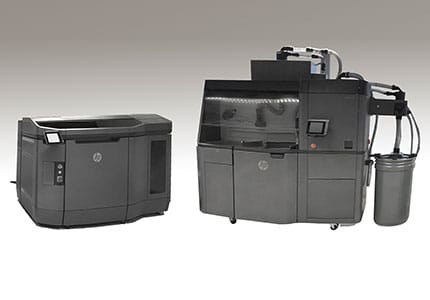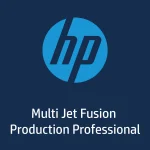 We are a Production Professional Partner of the HP Digital Manufacturing Network.
Screen printing
We have been screen printing since 1972. We use this process to print the user interfaces for our input systems. The custom designs of our customers are printed on polyester films as well as on glass. To this day, screen printing stands out through extremely long ink fastness, reliable reproducibility and a high degree of flexibility in material printing.
Very high quality, no pixels visible
Reproducibility
Weatherproof
Suitable for larger quantities
Custom colors can be realized without problems

Digital screen exposure Computer-to-Screen (CTS)
The new CTS process no longer requires films. The digital data of the print image is exposed directly onto the coated screen via laser exposure.
Precise positioning of the print image
Less covering work
Archiving purely digital
Automatic label printing for the labeling of screens
Design changes can be implemented quickly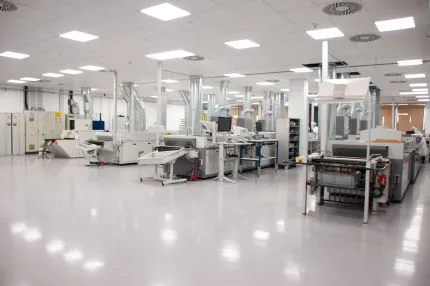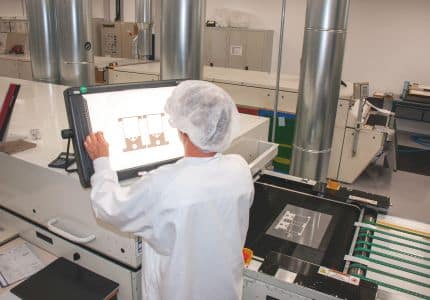 Cut, laser and die-cut
In the cutting room, the products are cut from large sheets of film to the actual outer contour. Depending on customer requirements, there are three processes to choose from:
Die-cut with steel rule cutting tools (for larger quantities or larger tolerances)
Laser plotting (for smaller quantities or tolerances up to +/- 0.1 mm)
Mirror laser (for smallest radii and geometries, tolerances up to +/- 0.1 mm)
Cutting plots (for smaller quantities or tolerances up to +/- 0.1 mm)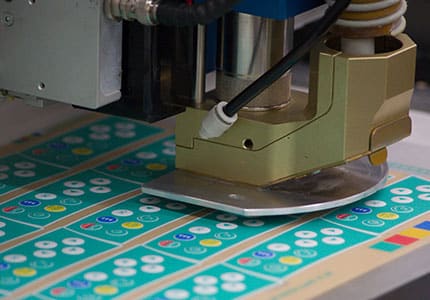 Our quality standards
At H+K, we rely on reliable processes and high-quality materials. This is how we can supply durable products of high quality to our customers.
We are certified according to
For our customers, these certifications mean that the basic understanding, the required tools, methods and standardized processes are part of the company. We speak a uniform language, because the terms and requirements based on these standards are not new territory for us.
100% testing
Not a single device leaves our house without a visual inspection and functional test. In the final inspection, the products are put through their paces. Each button and each LED is controlled by its own test software. Touch systems and displays are also checked using our own test programs or test fixtures provided by the customer.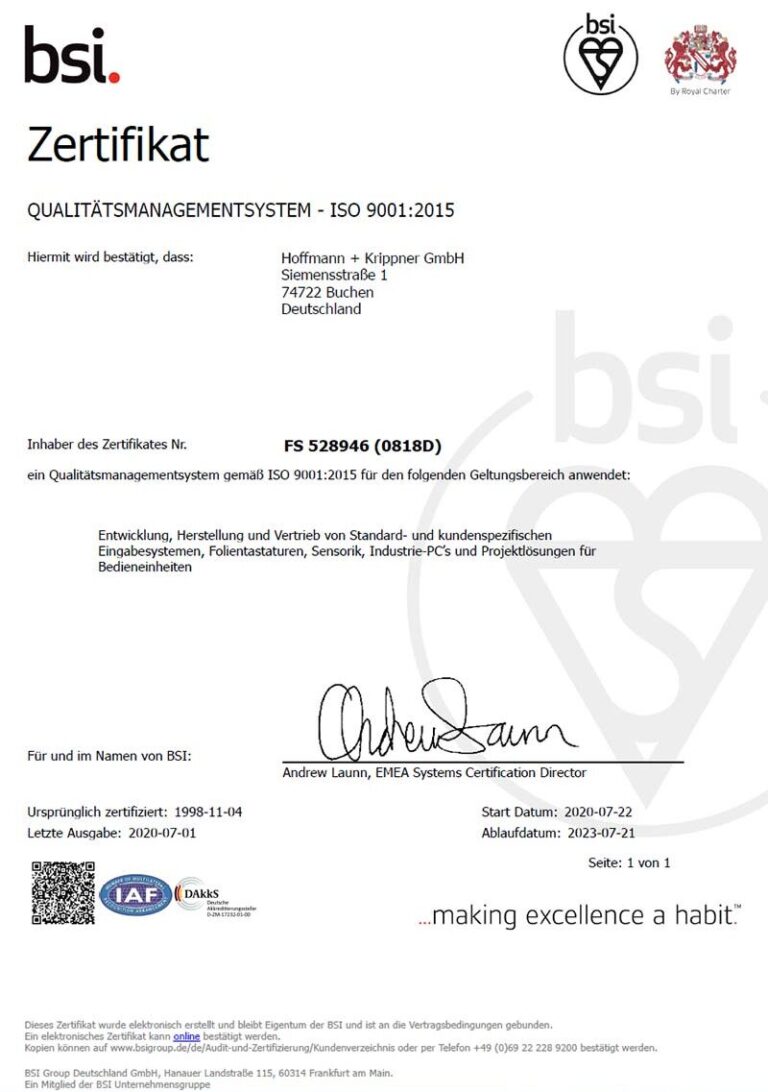 Sealing and protection concepts according to IP protection classes
We develop solution concepts for our customers that are specifically customized to their areas of application: From splash-proof membrane keypads according to IP65 to systems that withstand even high-pressure cleaning according to IP69K.
Together with you, we determine specific requirements for the HMI or sensor and create requirement specifications. In our design and development, we derive appropriate design measures and manufacturing processes, such as sufficient bonding, safe cover glass, EMC shielding or sealing.
Any required tests are performed in-house on various test fixtures. Environmental influences such as extreme heat or cold can also be simulated in the climate chamber.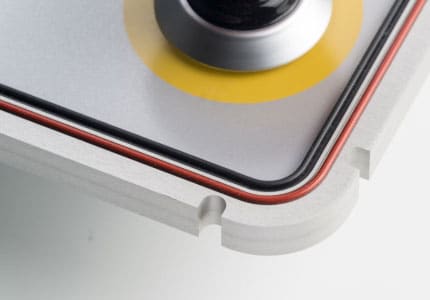 Dispensed and bonded gaskets for HMIs
The special areas of application for our customers require suitable protection concepts. With our in-house dispensing machine, various gasket materials can be applied to carrier parts, displays or glass with custom shapes. Even double beads or EMC gaskets are possible. No chance for dust and liquids.
Dispensed gaskets:
Custom shapes
Silicone-containing, silicone-free or conductive sealing materials
Special technology: double gaskets
Front side dispensed gaskets in black, white and transparent (for gap sealing between housing/front panel and cover glass)
Bonded gaskets:
Custom shapes
One connecting piece
Low cost multi-part gasket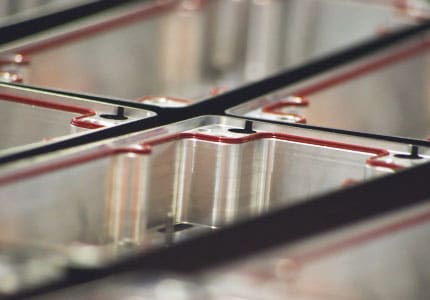 Test, check, ensure quality!
The test laboratory is the foundation of consistent quality assurance. The test procedures focus on material behavior under extreme conditions. In-house endurance and climate tests demand everything from our materials and components.
In our laboratory, we test, among other things, switching cycles of the installed contact springs, adhesive durability or climate changes.
Standards, guidelines and tests
We are very familiar with the requirements of many different industries and technologies and can draw on this deep wealth of knowledge to provide you with holistic advice.
The standards and quality guidelines of diverse industries are part of our expertise. We help you ensure that your products meet material requirements, testing and certifications.