Operating units for injection molding machines must be safe and intuitive to use at all times. The long-established Swiss company NETSTAL relies on a smart operating concept of touch and haptic buttons for its high-performance injection molding machines and system solutions.
THE REQUIREMENT:
The state-of-the-art preform system should be as safe and intuitive to use as possible. For this purpose, it is planned to provide the operator with a combination of touch, haptic keys and rotary controls. Homogeneous key illumination is desired for safe operation, even in poor lighting conditions.
To make the control system smart, an integrated RFID antenna is to provide the option of reading out the machine and thus being able to put it into operation quickly and easily.
Membrane keyboard with illuminated and embossed keys
Integrated knobs, switches, RFID antenna and a USB socket
15.6″ PCAP multitouch incl. touch controller
TFT display including TFT controller with DVI and HDMI interface
Robust glass pane
Operating unit flush-mounted in support part
Metal cover on the back
Grounding concept
Interfaces: POWERLINK, USB and standardized display interfaces
Front side protection class IP 65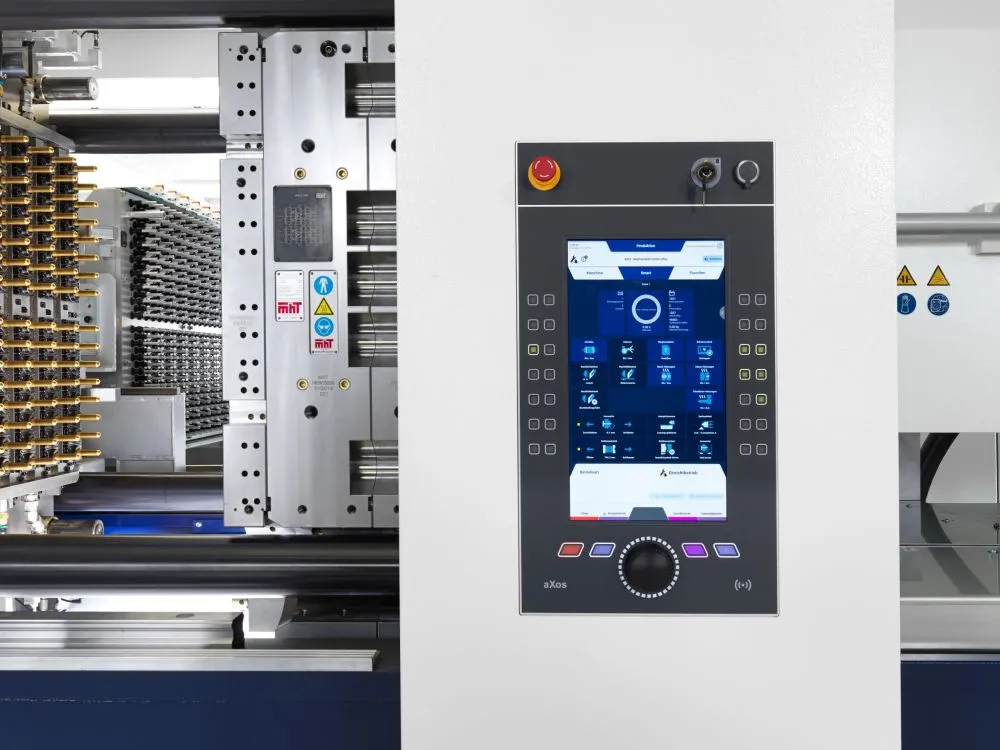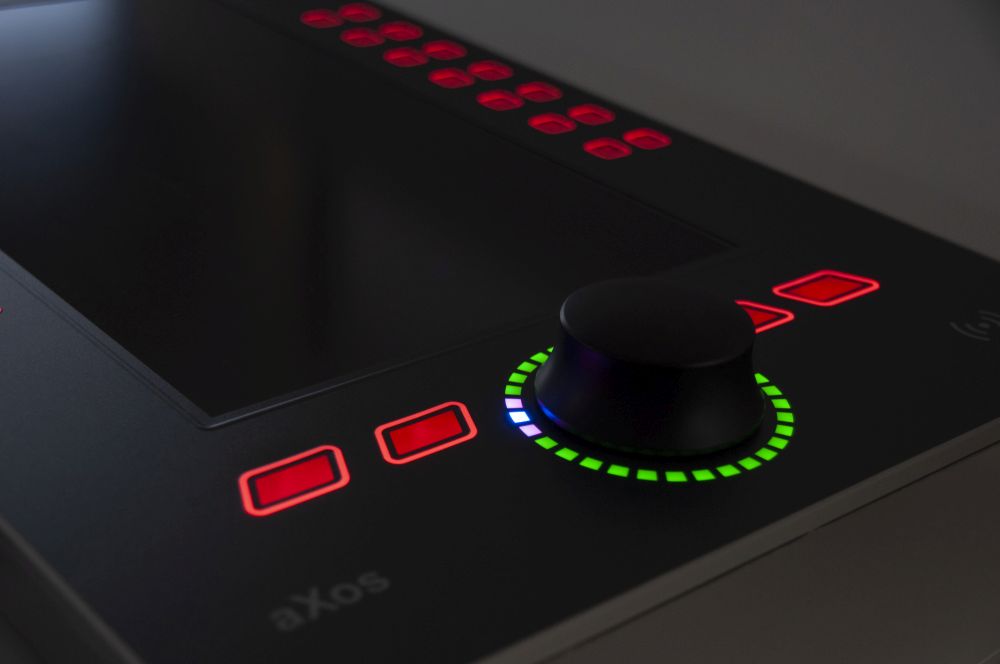 OUR SOLUTION:
We were able to combine the customer requirements in a complex HMI with perfectly matched assemblies. For this purpose, we coordinated purchased parts in detail with the customer and created a combined solution consisting of a touch display unit and an illuminated membrane keypad.
For an optimal view of the haptic keys, we rely on our SideLED technology. By means of RGB LEDs and a special keyboard design, we let all key surfaces and rings shine homogeneously and brightly. We have integrated all the necessary switches, sockets, the RFID antenna and the individual rotary knob with latching into the membrane keypad.
The desired PCAP touch is securely bonded to the chemically anti-reflective glass panel using our Liquid Optical Bonding process. We also liquid-bonded the matching display to the PCAP Touch over the entire surface. The use of optical bonding gives the operator a clear view of the touch display without distracting reflections. Furthermore, the full-surface bonding makes the entire unit robust and resistant to external influences. We have seamlessly combined the touch display glass unit with the membrane keypad without a step. For this purpose, we cut out the display window in the membrane keypad and insert an individual glass pane.
We have integrated the entire control unit flush into a customized aluminum support part. A suitable cover protects the internal electronic unit.
As requested by the customer, the HMI can be commissioned via the POWERLINK, USB and standardized screen interfaces.
In addition to the design of all assemblies, we also developed a safe grounding concept for this complex input system.
See our control unit in action: To the video