Every day, more than 40,000 trains bring millions of passengers from A to B or goods to their destination. All these trains have a variety of controls and displays in a single cockpit. Siemens Mobility is helping to shape the passenger and freight transportation of today and tomorrow with trains, infrastructure, automation and electrification solutions. We are allowed to be a part of it and developed individual, durable touch panels for railroad technology together with Siemens Mobility.
THE REQUIREMENT:
For the control of high-speed trains, Siemens Mobility approached us with a specific request: an easy-to-read, robust and durable touch display for the driver's cab.
The input unit is to consist of a PCAP touchscreen including touch controller, a bonded TFT display and an LED display and is to be flush-mounted in an aluminum carrier plate. The maximum dimensions of the HMI of 310 x 214 x 6 mm (width x height x thickness) must not be exceeded.
PCAP touch screen incl. touch controller
viewing angle stable TFT display with automatic brightness adjustment
low-reflection, scratch-resistant and non-splintering protective screen of the display
LED display
Support part with maximum dimensions of 310 x 214 x 6 mm (width x height x thickness)
Aging compensation for decreasing brightness of display and LEDs
Degree of protection of min. IP65 and shock resistance according to IK07
Working temperature: -40°C to +70 °C
EMC conformity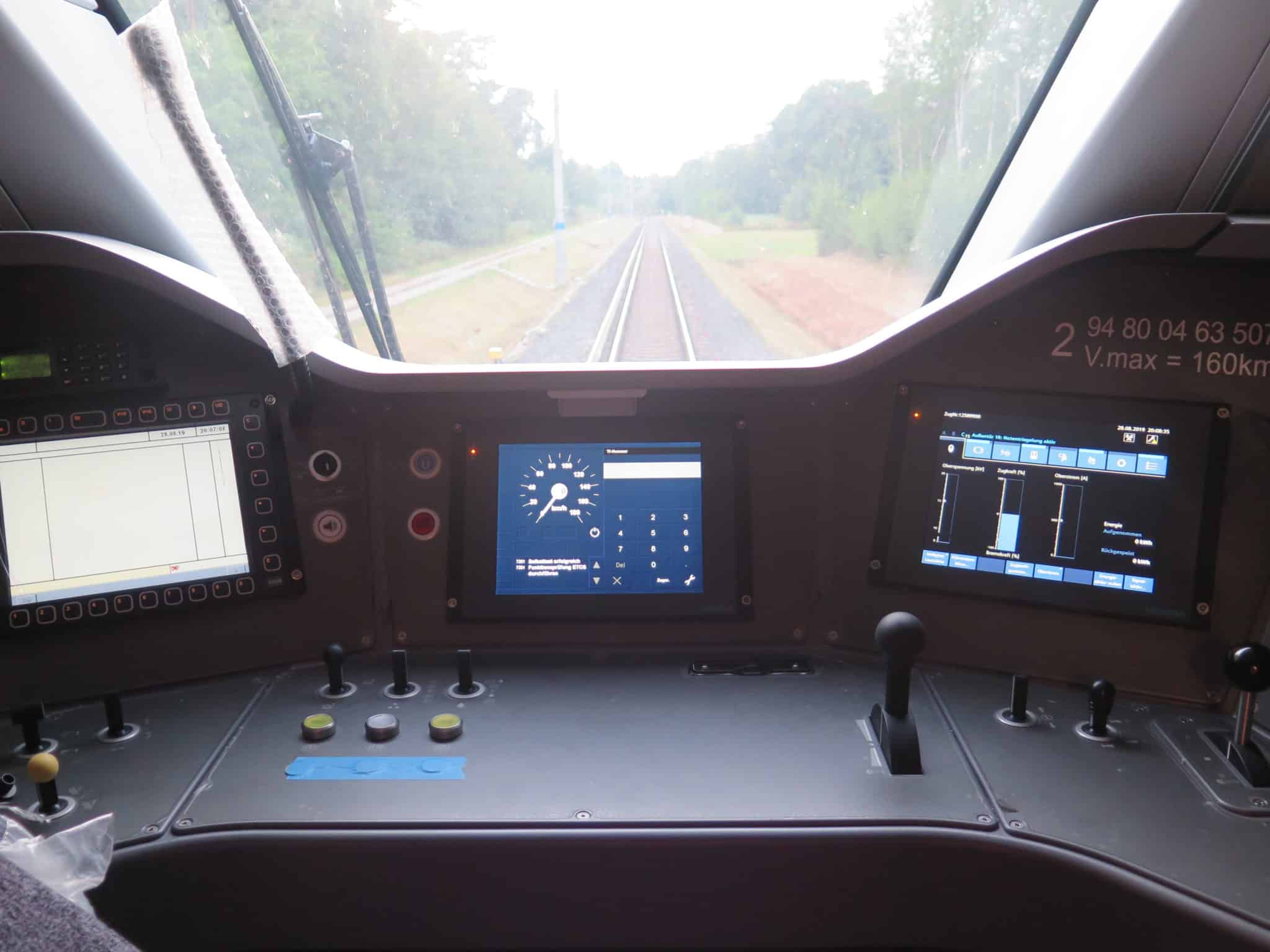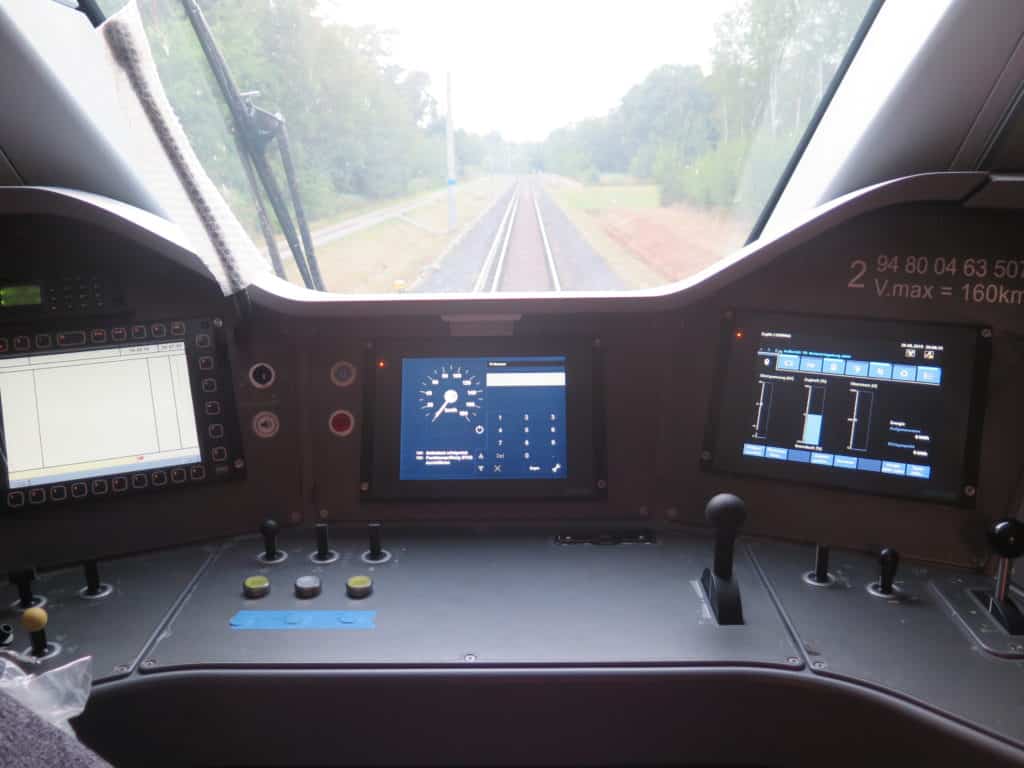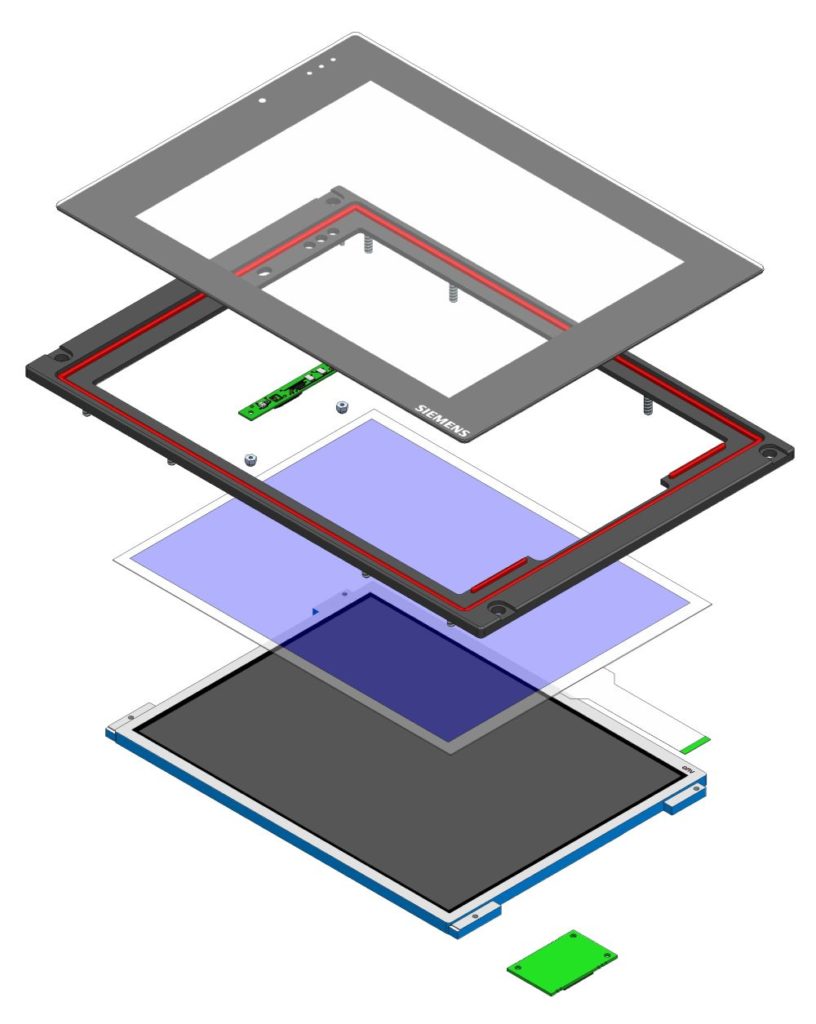 OUR SOLUTION:
We were able to meet all the requirements in one touch system. The challenge lay above all in compulsory compliance with the standardized maximum dimensions of the control panel. For this purpose, we selected components and manufacturing processes that both meet the required dimensions and satisfy all robustness requirements.
To make the touch system robust and shock-resistant, we bond the touchscreen, cover glass and display using optical bonding. With our OCA and LOCA process, we bond the components via an adhesive layer and make the system more resistant to temperature fluctuations and mechanical stresses. The visual appearance is ensured by an individual design that we apply to the cover glass by screen printing.
To simplify subsequent assembly at the customer's site and to give the touch display more stability, we embed the complete touch system flush in an aluminum support part via another bonding and simultaneous sealing.
We realize the desired LED display via a separate printed circuit board, which is mounted on the carrier part from behind. For this purpose, we equip the board with three DUO LEDs and an additional brightness sensor. The viewing-angle stable display automatically adjusts to the ambient brightness via this brightness sensor.
All assemblies are brought together in our assembly to form a touch system and subjected to a final 100% functional test. The matching touch controller is included loose on request.
Drop test according to IK07
At the end, the touch system still has to pass the drop test according to IK07. We perform such a drop test in-house during sampling and also take care of the associated documentation for our customers. For this purpose, all framework parameters were precisely coordinated with Siemens Mobility in advance.
The requirement for the HMI: After the 500g hammer hit the center, the cover glass must not be broken and the touch display must not fail.
The result: Our HMI has successfully passed the ball drop test!
Siemens Mobility has been reliably using our robust and durable touch panel according to IP65 and IK07 in railroad technology for several years.