THE REQUIREMENTS:
In medical technology, what counts above all is the well-being of the patient. Faultless technology that functions at all times is an absolute must for every medical device manufacturer. It was therefore not without reason that Siemens AG relied on Hoffmann + Krippner as a partner in the development of a flexibly usable remote control unit for its devices.
The requirements for this were as challenging as they were innovative: conception of a universally applicable remote control unit for the various medical devices of Siemens AG, development of a suitable and attractively designed Plastic housing with ergonomic key input, integration of an electronic control unit, production of the Membrane keypad as well as the housing, development of a radio interface with suitable software, and the construction of a dedicated charging station for rapid recharging.
THE IMPLEMENTATION:
All of Hoffmann + Krippner's core competencies were called upon in this project. After a development period of only 12 months, the finished product was presented to Siemens AG: A functional, safe and aesthetically sophisticated remote control that fully meets the usability requirements set. All control keys have been given a smooth actuation with GT surface (GT technology), the function keys have been given a higher actuation force as well as a discreet key embossing to prevent incorrect operation by medical personnel.
The keys designed in Hoffmann + Krippner technology give the operator a particularly pleasant feel. For safety reasons, the upper key block can only be operated in conjunction with simultaneous actuation of the large-area, pressure point-free safety button on the back. The color design of the keys, for example for directional control, is based on the colors of the medical devices and thus enables intuitive operation.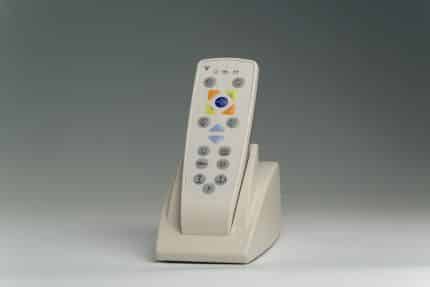 THE OUTCOME:
Today, the innovative remote control units from Hoffmann + Krippner are already being used for numerous medical devices from Siemens AG – and internationally in more than 20 countries. Through a sense of responsibility and a pronounced sense of the highest quality and a passion for innovative new developments, coupled with maximum commitment to the customer, Hoffmann + Krippner thus contributes to the faster, better and safer treatment of patients around the world.