Produce faster, more flexibly and more cost-effectively with constantly increasing quality? With intelligent regulation and control systems, STANGE Elektronik constantly increases the productivity of its customers in heat treatment. We support them with individual multi-touch systems for a wide range of industry applications.
THE REQUIREMENT:
For the process controller SE-707 a front panel with 12.1″ wide format display, multitouch PCAP and suitable controller is required. The glass front is to be printed with an individual design. It is also important to note that the display must be connected to the retaining plate with a low impedance in order to maintain EMC. The entire touch system requires an IP65 degree of protection and a UL Type 4 classification.
12.1 inch wide format display
PCAP Touch including controller
Printed glass panel bonded to touch
Aluminum carrier part natural anodized, visible surfaces brushed
Degree of protection IP65 and UL classification type 4
EMC conformity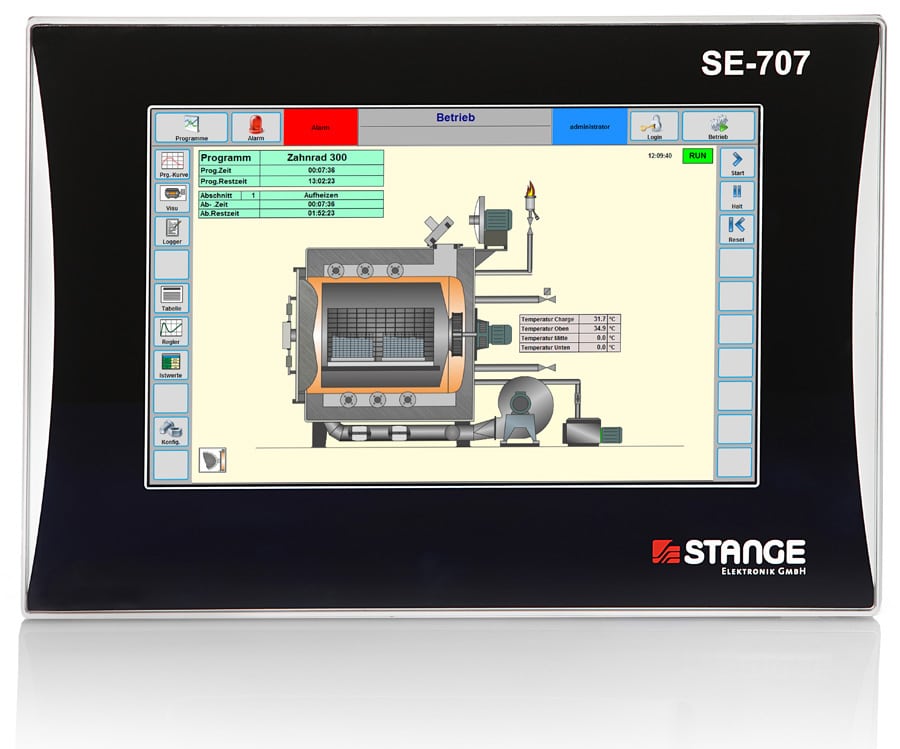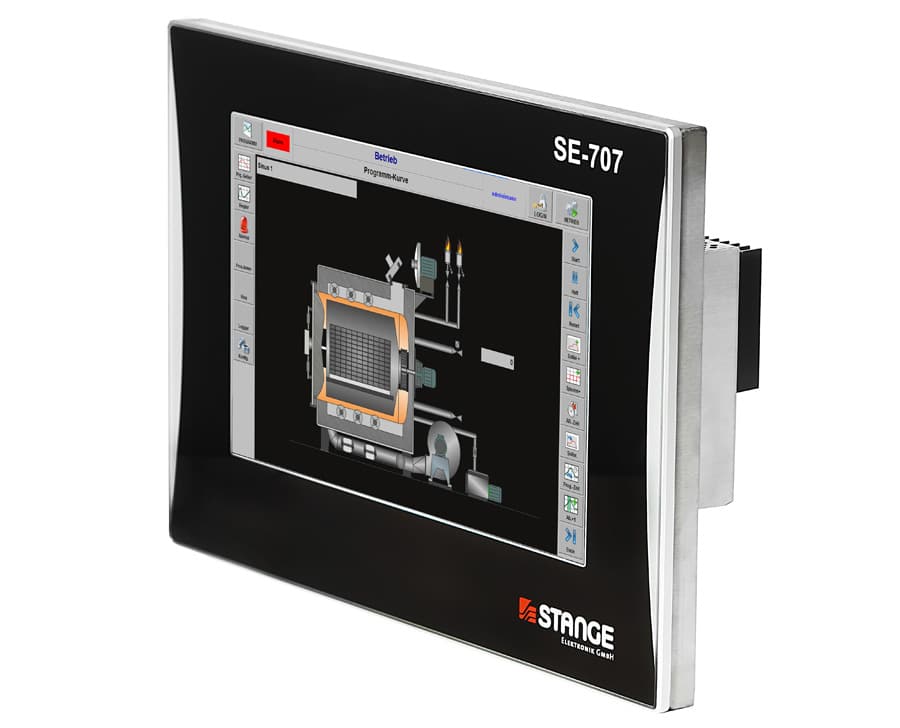 OUR SOLUTION:
We have implemented all customer requirements in a 12.1 inch touch system . We screen print the desired 5-color customer design on the back of the anti-reflective glass panel. With the help of our LOCA optical bonding process, we combine the printed cover glass with the PCAP touch to form a single unit.
We took over the creation of the design data and the procurement of the suitable aluminum support part for our customer. The support part is provided with individual apertures, milled holes and bolts for optimum accommodation of the glass touch unit. The natural anodized surface finish with brushed visible surfaces ensures a high-quality design.
To ensure the IP65 protection class, we have reliably inserted the glass touch unit into the aluminum support profile via a dispenste black seal. The rear side of the carrier profile also has an individually dispenste seal.
We connect the touch system to the desired 12.1″ wide format display via another glue. An additional holding frame ensures optimum stability. This serves to support the display as well as to attach the touch controller.
Just like every manufactured H+K product, the entire touch system is subjected to a 100% final inspection. For this purpose we connect the touch panel to an individual control electronics. In this last step, we check the function and correct alignment of the touchscreen and display. Finished is an individual and high-quality touch panel according to IP65 and UL type 4.
In addition to the 12.1-inch touch system, a 7-inch variant has also been reliably in use for several years.