THE REQUIREMENTS
Brabender® GmbH & Co. KG develops, produces and distributes devices and equipment for testing material quality and physical properties for companies in the food and chemical industries.
Reliable and easy-to-use operating and control elements with a surface that is easy to clean and resistant to chemicals were sought for the development of new machines in the areas of conveyors, sample preparation, grain reception and quality control.
Product description: Illuminated control unit on printed circuit board: development electronics & software, metal housing, carrier plate, keys in GT technology, glass touch display bonded by means of optical bonding, carrier part & retaining cover & back cover
THE SOLUTION

The capacitive keyboards from Hoffmann + Krippner offer the best prerequisites for the special areas of application in industrial food production to meet the requirements of a robust and easy-to-clean input unit. Capacitive systems can be installed behind glass, plastic or other non-conductive surfaces and are thus protected against acid, dirt and other contaminants.
Even a light touch on the smooth surface enables easy control. A capacitive rotary encoder detects the actuation signals and transmits them to the machine control system via an interface. The digital display can be freely programmed to ensure individual assignment of a wide variety of measured variables.
The individual setpoints are changed by pressing a "confirmation key" and adapted to the respective task. To avoid incorrect operation, the control unit must therefore be operated with both hands. Any disturbances and external influences are detected and eliminated by the processor and the associated software. The lack of tactile feedback of capacitive displays is compensated by visual and/or acoustic signaling.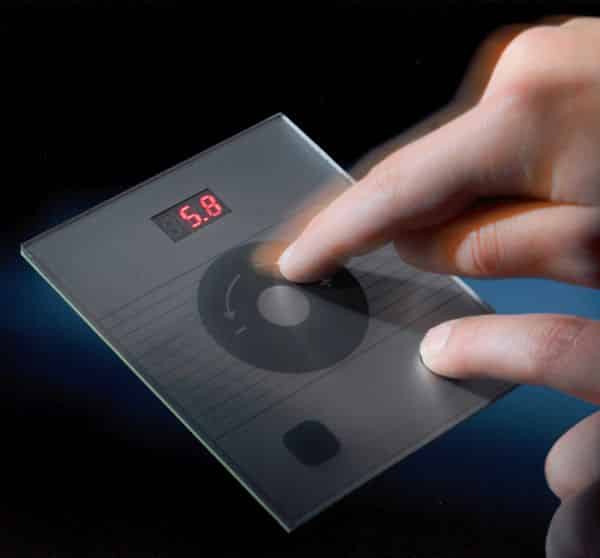 THE RESULT

The compact and space-saving design of Hoffmann + Krippner's capacitive keyboards is the ideal solution for control elements with particularly flat design requirements. There is no mechanical wear of the contacts. Easy and quick cleaning ensures maximum hygiene standards and, in a design such as this one, behind glass, great chemical resistance. The minimal operating elements and the fail-safe control system also guarantee maximum reliability with easy handling.
Hoffmann + Krippner's decades of experience in the field of innovative input systems offers the successful Brabender company a specific, robust and reliable solution here that meets the high demands of the food industry. In the development and construction of the input unit, the best possible result is worked out through trusting cooperation of the specialist department.