Full house at the second "H+ K Zukunftstalk": Top experts discussed the HMI design of the future with customers.
The debut event of the "H+K Zukunftstalk" in October 2022 was already a real success. Issue 2 brought us a full house right away: 25 customers discussed the HMI (Human Machine Interface) design of the future with two invited top speakers. For a whole day, our foyer was transformed into an exciting forum with lively discussions, exciting presentations and an inspiring view towards innovative future technologies.
Frank Wahlandt, Head of Sales at Hoffmann + Krippner, was pleased with the successful continuation of the event series and the great response: "This was now the second Zukunftstalk here at our company headquarters. And we had a full house: More than 25 customers plus two high-quality speakers and our event team is already the maximum we can accommodate in a relaxed manner. We fully achieved our goal of taking an intensive look into the future of input systems with renowned experts and motivated listeners. A big thank you at this point once again to the organization team: You have put something great together here for the entire business location of Buchen!"
This time, the invited experts spoke on the following topics:
The importance of usability and user experience in HMI design – Franz Koller, UID GmbH
Designed by AI: The use of AI (artificial intelligence) tools in the design process – Stefan Karp, ma ma interactive system design
Journey through Hoffmann + Krippner – Company tour with Frank Wahlandt
Successful implementation of HMI design – Jens Arend and Michael Kastner, Hoffmann + Krippner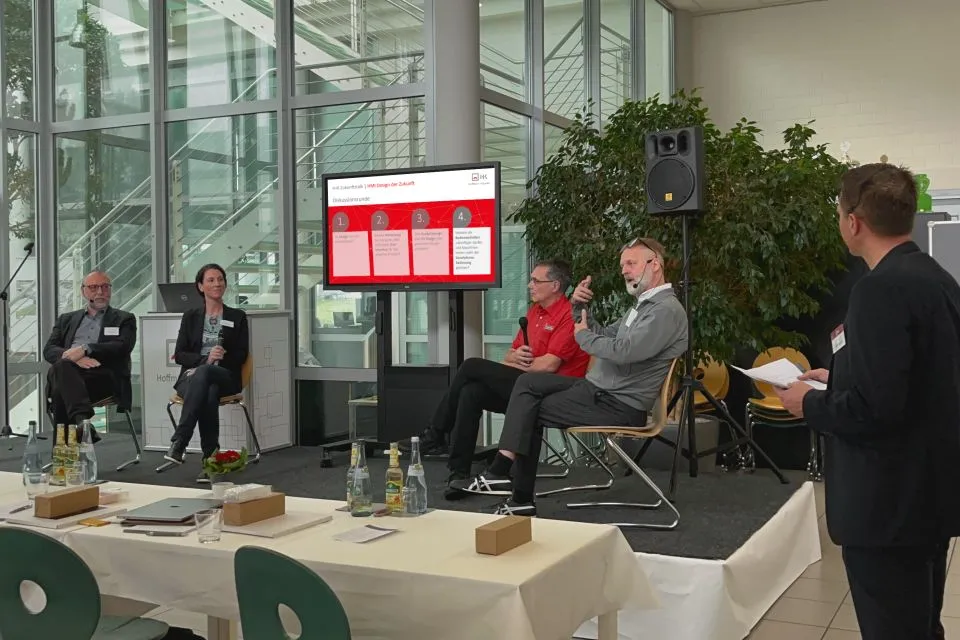 Presentations, networking, roundtable discussions!
With delicious catering, the breaks between presentations were used for intensive networking. Not only there, but also in the course of the concluding joint discussion, the participants intensively exchanged views on the issues that the entire input system manufacturer industry is currently dealing with:
Isn't design actually just a cost factor – or can it do more than just look nice?
What is the significance of a good or bad user interface for the entire product?
Are product design and UX design (user experience design / focus on usability) really two separate design processes?
Will the control units of future devices and machines increasingly resemble the operation of a smartphone?
"In the end, we could have continued discussing these questions, which were exciting for everyone, for hours," Wahlandt said enthusiastically. No wonder that the 3rd "H+K" Future Talk is already being planned: The next expert round will take place at Hoffmann + Krippner on October 12, 2023.