We were again able to complete our ISO 9001, 14001 and 13485 certifications this year with very good results. Both on-site and online, the auditors scrutinized our processes and found no deviations.
Within the audits, the processes of the management, purchasing, warehouse and production were examined in detail. This was followed by the human resources department, sales, design and development, including software validation and test equipment monitoring.
Click here for our current certificates.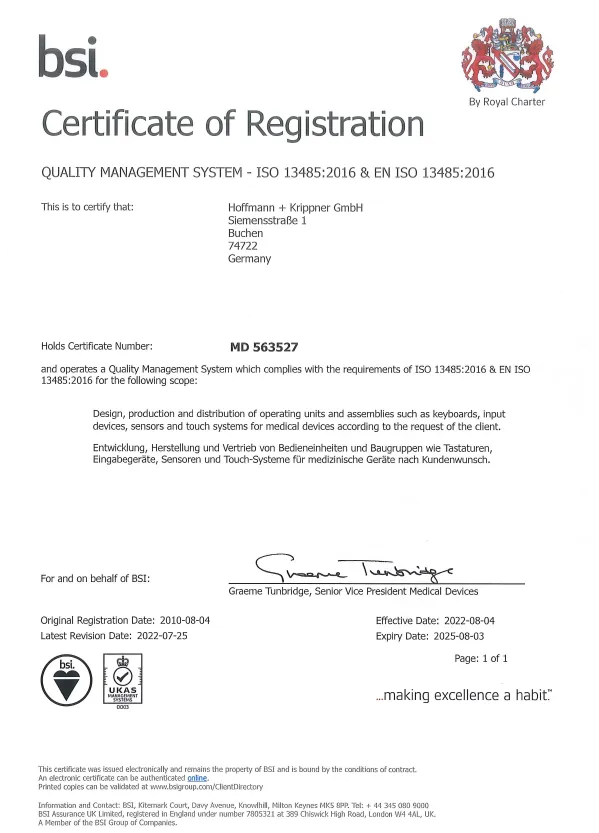 Extended requirements of ISO 13485
For many years, we have been supplying customers in the medical technology sector with operating units such as membrane keypads, touch systems and sensors. We offer our support already in the development phase.
We have been certified according to ISO 13485 since 2010. In 2018, we carried out the conversion to EN ISO 13485:2016. Compared to ISO 9001, EN ISO 13485 primarily requires extended risk management and documentation management.
Through close communication with the customer as early as the quotation phase, we determine the customer-specific requirements and systematically implement them during the project phase. This ensures smooth implementation in series production.
For our customers, certification according to EN ISO 13485:2016 means that the fundamental understanding, the necessary tools, methods and standardized processes are anchored in the company. We speak a uniform language, as the terms and requirements from the standard are not new territory for us.
In addition, this can mean reduced monitoring efforts for our customers and thus create significant added value.
A big thank you goes to our great team! It is only with the help of our entire #TeamHK that we have been able to achieve such good results in all audits to date.
Are you still looking for an experienced manufacturer for your operating units?
Make a consultation appointment with our area managers right away: