We can answer this question with a resounding "yes"! Once considered the standard among control panels, the membrane keypad was pushed into the background after the introduction of touchscreens. After all, touch-sensitive touch systems have long been established in industry as well. However, a touchscreen is not suitable for every application. Certain environmental conditions, device specifications, individual user preferences or safety requirements continue to argue FOR tactile input systems and thus FOR membrane keyboards.
Membrane switches are amazing tools for product designers and device manufacturers looking for a cost-effective yet highly functional interface for human-machine interaction. In short, membrane keypads can be used in all industries. They can be individually expanded and adapted, are reliable and durable. With its slim design, this input technology convinces all along the line.
The advantages of a membrane keypad:
Geometries and superstructures can be individually adapted to your installation dimensions
Custom designs make each membrane keypad unique
Sealing and protection concepts according to IP protection classes for demanding applications
Lower acquisition costs compared to a touch system
A long service life (we guarantee at least 1 million switching cycles)
Use at extreme temperatures possible
Double contact for high safety requirements (two different actuating forces in one button)
Low power consumption
The membrane keyboard has many faces. It is flexible or rigid, with or without electronics, integrated on/in a carrier part or housing, very thin or solid, flat or raised. Membrane keypads can be designed as individually as each customer's requirements. The basic version consists of a pure film package of several film layers (also called sandwich structure). Here, the printed circuit (=polyester film printed with a conductive paste) forms the heart of the membrane keypad.
The basis: How is a membrane keypad constructed?
A membrane keypad always consists of at least 5 layers. In order to guarantee you a long life, we have added another layer to our film structure, a holding film. The foil package can be customized and built up according to the requirements. If you require additional functions, such as key illumination or the integration of electronic components and interfaces, we simply replace the conductor foil with a thin circuit board and equip it with electronic components. We can easily integrate other additional layers, such as light shielding or EMC shielding.
Design foil: The top layer of a membrane keyboard is the design foil, cover foil or also called front foil. It is the user interface and should have an intuitive and appealing design for the target audience.
Adhesive layer: The adhesive layer bonds the cover film to the rest of the film package.
Retaining foil: The retaining foil ensures that the integrated contact springs do not slip even after years of use and thus does not cause any malfunction.
Spacer foil: this layer compensates for different heights of contact springs or LEDs.
Conductive foil or circuit board: The electrical circuit – the heart – is located on this level.
For flexible membrane keyboards, we screen print the conductive traces with a conductive paste onto a polyester film and feed them out via a connecting tape with protected graphite ends. In the case of rigid membrane keyboards, the conductor tracks are located on a circuit board, which can be additionally equipped with further electronic components at the customer's request.
At this level, we integrate the contact springs (also called clickers or snap domes) for the keys and the LEDs for a status, key or area illumination.
Adhesive layer: We select the adhesive layer on the back to match the substrate (plastic, metal, smooth or textured).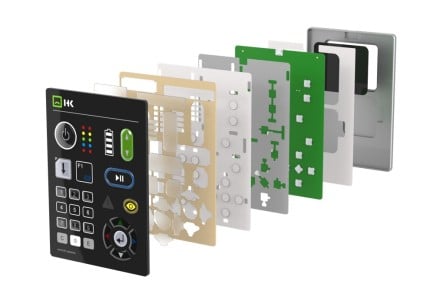 Membrane keypads without contact springs
As an alternative to the conventional variant with tactile keys, membrane keyboards are also available without integrated contact springs. Keys are instead realized by two electrically conductive layers on top of each other. We use an additional film to keep these layers at a distance so that no permanent contact occurs. As soon as a key is pressed, both conductive layers meet and trigger the contact.
Due to the missing contact spring, the user does not receive any tactile feedback. However, this can be replaced by an acoustic or optical signal.
Membrane keypads can be customized almost without limits!
Membrane keypads are durable and reliable input systems that can be expanded with many components and options.
Starting with the design film, there are a wide variety of design options. We print individual and photo-realistic designs, special colors or even mirror and metallic colors on the films using screen and digital printing under cleanroom conditions. Even a brushed metal look can be simulated with a special printing process on a polyester film.
LED windows can be transparent or colored. Even a disappearing effect is possible. Here, the LED window is invisibly integrated into the foil surface until an LED actually lights up. The LED only becomes visible when it lights up.
We can easily integrate display or indicator windows into the design foil. Clear or lightly structured windows provide an optimal view of the display behind them.
With embossing or our specially developed GT technology keys become more tactile. Even blind operation is possible as a result. The clear plastic mass of the GT technology on the keys also gives the control unit a classy look. We provide for lens, frame or surface embossing individually for buttons and LED windows.
Our finishing options for membrane keypads:
Individual designs with special, mirror and metallic colors
LED window transparent, colored or with disappearing effect
Display and display window clear or structured
Embossing and GT technology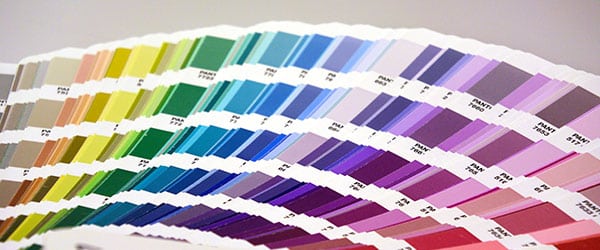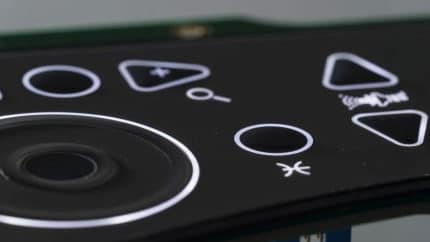 Further individualization options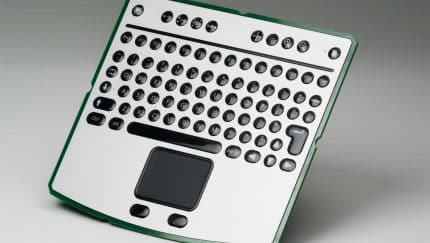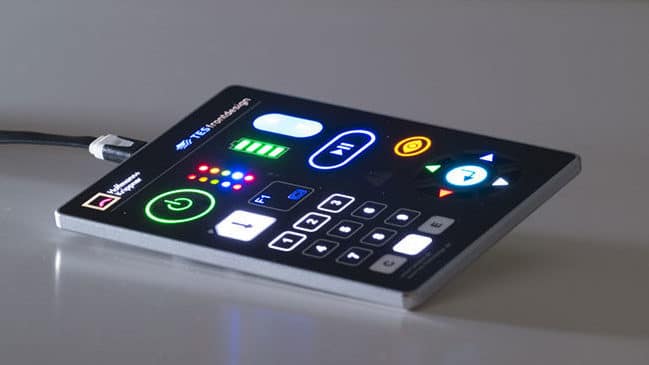 The integration of a membrane keypad in a carrier plate made of aluminum, stainless steel, plastic or FR4 material gives the operating unit more stability and mounting options. We assemble printed circuit boards with electronic components and individual interfaces for smooth data communication.
Membrane keypads with integrated lighting ensure safe operation despite poor lighting conditions thanks to SideLED technology. We combine our LED technology with a sophisticated keyboard design. This allows larger areas and individual keys to be homogeneously illuminated in a wide variety of colors. This technology convinces above all with enormous brightness and long service life.
Displays and touchscreens can also be combined with a membrane keyboard. Using OCA (Optical Clear Adhesive) bonding, we marry the different components together without dirt or bubbles.
Seals, UV protection or EMC shielding protect membrane keypads from external influences. Depending on the planned area of operation, we will work out a suitable protection concept together with you.
For hygienically demanding environments, such as medical or food technology, we use an antimicrobial film surface. The film is used for the sustainable protection of membrane keyboards against bacterial contamination. The special structure of the film surface prevents the growth and reproduction of microorganisms.
With these components, we make membrane keypads fit for your applications:
Bright and homogeneously illuminated keys and symbols
Integrated displays and touchscreens
Support plates made of aluminum, stainless steel, plastic for better stability and easy installation
Integrated circuit board with individual electronics assembly and interfaces
Seals against dirt and water effects
UV protection for devices in outdoor use
EMC shielding for protection against radiation
Antimicrobial film surface for hygienically demanding environments
Interfaces for membrane keyboards
Membrane keypads with an integrated circuit board can reliably transmit data and communicate with your machine through individually equipped microcontrollers. We develop individual solutions for you with integrated microcontrollers and direct connection to the desired interface:
RS232, RS485
PS/2
CAN bus
Modbus
Profibus, Profinet (Gateway)
Ethernet
I2C, SPI
USB (generic HID)
Bluetooth
WIFI
GSM (data connection via mobile radio)
Analog digital interface (PWM, 0-10V, 4-20mA,…)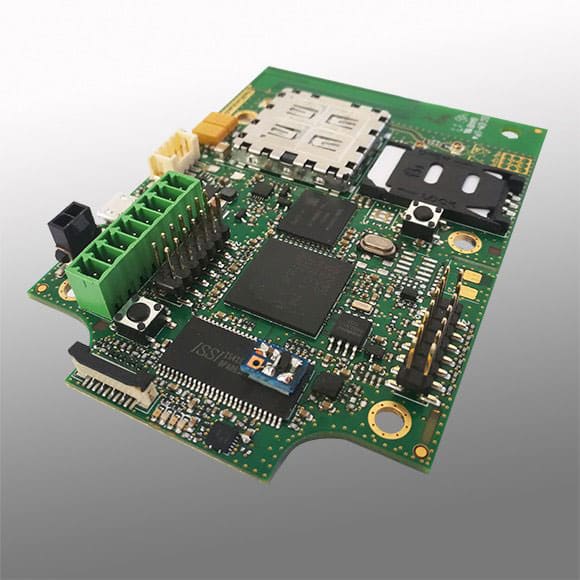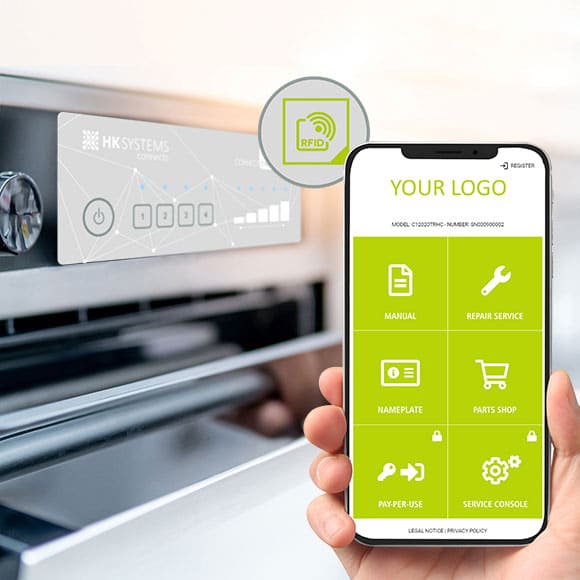 Use smart membrane keypads and secure competitive advantages!
With our technology tap2.cloud we make your products future-proof. We integrate our NFC technology into your membrane keypad, building the bridge to the online world. With tap2.cloud, you can easily network and identify your devices using NFC technology. In connection with the IoT cloud, you link individual content and thus offer your customers new services: digital product specifications, operating instructions, direct ordering of spare parts or a repair service is available to your customers "on tap" on their smartphone. This cloud solution makes your device management simple, smart and digital and even meets the special requirements of a digital nameplate according to DIN SPEC 91406.
Even the supposed "standard" of input systems, the membrane keyboard, is constantly evolving! In addition to countless customization options and extensions, a membrane keypad with integrated NFC technology even supports the step into digitalization.
Start your project!
New development or redesign? We are your partner from prototype to series production.
Further information can also be found under Membrane keypads.