Frank Wahlandt and Thomas Grimm will strengthen the management of the Buchen-based technology company from August 2023. Together with the previous managing directors Ralf Krippner and Stefan Kieser, they set the course for the future.
On the occasion of the company's 50th anniversary, Hoffmann + Krippner not only looks back on the successful development of the past half century. The focus is primarily on the future. Because Hoffmann + Krippner is expanding! Both the team and the product portfolio are constantly evolving.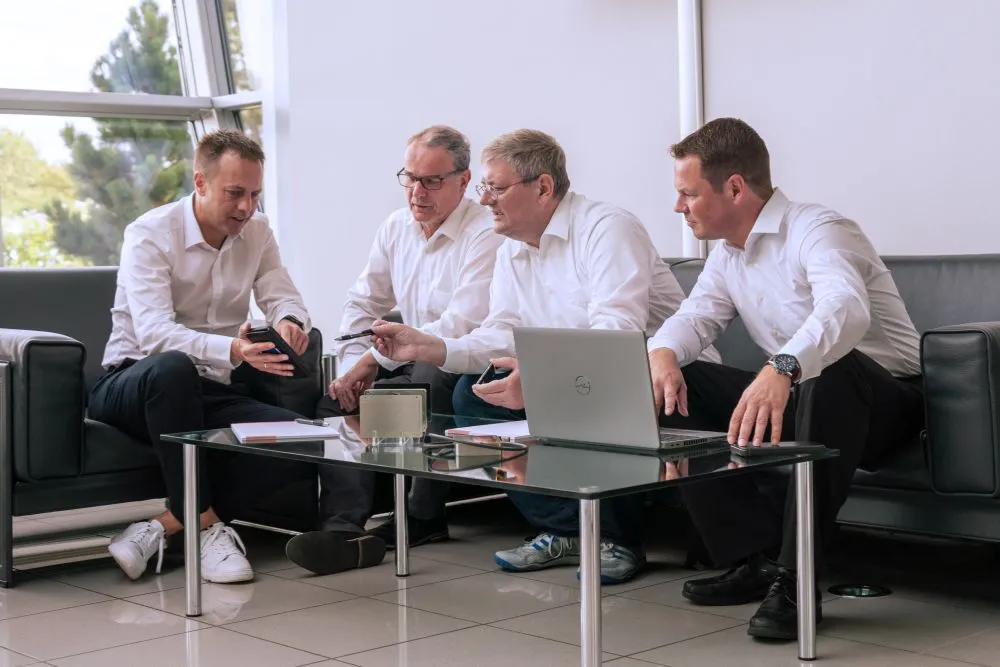 New structures for successful growth
In order for the company to continue to grow successfully, new structures are emerging for H+K. One of these is the generational change in the company's management. With Frank Wahlandt and Thomas Grimm, the current management team will initially be expanded to include Ralf Krippner and Stefan Kieser. At the turn of the year, the various subsidiaries at the Buchen, Neuruppin and Münster sites will then be transferred to a group of companies. In this group of companies, the shareholder Ralf Krippner and the current managing director Stefan Kieser will take over the management together with the division manager Christian Bachschmid.
Hoffmann + Krippner intends to focus on its core competence of "holistic input systems". "We make input better! That is our vision and at the same time the promise to our customers. With many years of experience in the market, the know-how of our employees and the production site in Buchen in the Odenwald, we succeed in inspiring our customers with individual solutions," explains Managing Director Frank Wahlandt.
The new corporate structure at H+K is divided into two areas. Technologist and production specialist Thomas Grimm, who has been production manager for many years, is responsible for the "Products" area. As a trained marketing specialist and experienced sales manager, Frank Wahlandt will assume responsibility for the "Partner & Market" division. With new impulses and processes, they want to successfully develop the company at the Buchen site.

"We are pleased that the next generation will bring their expertise to the management team to continue our 50-year success story," says Ralf Krippner.